Moisture-proof cabinet to protect important articles like camera or lens from fungus or moisture to prevent deterioration in quality by maintaining them in closed space at uniform temperature and humidity.
Camera and lens have fungus growth without Moisture-proof cabinet
Fungus cannot be prevented with household air conditioner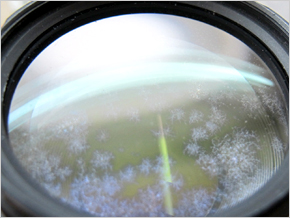 Fungus breeds on metal, glass and plastic surface also.
We are familiar with growth of fungus on eatables and leather goods but it breeds on metal,glass and plastic surface also.
Fungus breeds on grease and sweat contained in fingerprints on camera and lens and dietary protein and fat on hands.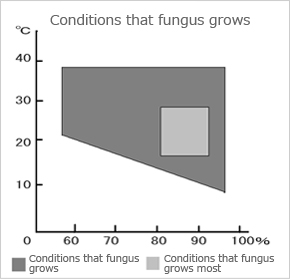 Fungus on lens takes just 3-4 days to grow.
Pictures taken with lens having fungal growth on it become hazy and blurred.
Removal of fungus from lens has to be carried out by a specialist and it is very expensive, as lens has to be dismantled.
Expensive lens becomes unusable if fungus spreads to inside of the lens.
In protect the precious lens; regular care to prevent breeding of fungus by storing it in moisture-proof cabinet is important.
Suitable humidity for storage of camera and lens is 40%-50%
Fungal growth happens if humidity exceeds 60% but humidity below 30% can lead to deterioration of the resin part.
| New Delhi | Kolkata | Bangalore | Chennai | Mumbai |
| --- | --- | --- | --- | --- |
| 75% | 87% | 81% | 81% | 85% |
Mean maximum humidity in leading Indian cities
*New Delhi,Kolkata,Bangalore,Chennai,Mumbai:August,Kolkata: October (Source:World weather.com)
Moisture-proof cabinet is popular in high temperature high humidity Japan
Japan has high temperature and high humidity throughout the year and particularly it rains throughout the day in June and July.
Therefore, it is quite common among camera users in Japan to store their precious camera and lens in moisture-proof cabinet to prevent them from fungal growth and deterioration due to moisture.
Protect your precious camera and lens in the dry box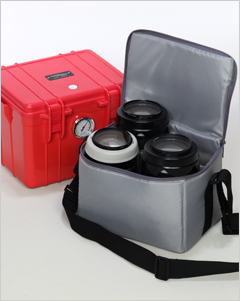 Humidity is completely shut out based on airtight cover and desiccant There are many regular users in Japan
It protects camera and lens from fungus and humidity even in high temperature and high humidity atmosphere
No power is needed as silica gel is used for dehumidification
Inside of the box has cushioned diaphragm and protects your precious camera and lens
Diaphragm has magic tape and portioning can be easily rearranged depending on requirement
Convenient and reliable design as you can just take out your camera and click
Colorful design is popular among youth and women
Can also be used for protecting jewelry and watches from humidity and fungus.


Camera moisture-free cabinet became possible because of Oishi
We bring to you high quality original product made in Japan.*

We bring to you high quality product at low price.

It carries 3 years warranty from the date of purchase.

We bring to you high quality original product made in Japan
It passed the rigid Electrical Appliances and Materials Safety Act of the METI (Ministry of Economy, Trade and Industry)
It is Electrical Appliances and Materials Safety Act Compliant product with PSE mark recognized by Government of Japan
About PSE mark
Japanese quality that protects your valuable goods
Japan has the 'Electric Appliance Safety Law' that regulates safety of electrical appliances.
Under this law, manufacturers and importers of electrical appliances are obligated to put 'PSE Mark' guaranteeing safety on the product.
One needs to qualify stringent multiple stage tests prescribed by the Ministry of Economy, Trade and Industry (METI).
Thus, Japanese government regards that electrical appliance carrying 'PSE Mark' guarantee its safety.
Quality inspection by the Japanese government is said to be most stringent in the world.
Dry cabinet of Oishi Denki Co. is the first humidity-free product in Japan to be granted use of 'PSE Mark' by the Japanese government.
*Main electrical part of the dehumidification unit of Dry Cabinet is made in Japan.